Flight MH370 information imbalances are scary during disaster
Over the past few days the world has watched the devastating imagery, and witnessed the story unfold of Malaysian Airlines flight MH370. Mystery shrouds the fate of Malaysia Airlines flight MH370, which has disappeared with 239 passengers and crew en route to Beijing. Flight MH370 departed from Kuala Lumpur International Airport at 00:41 on Saturday (16:41 GMT Friday), and was due to arrive in Beijing at 06:30. Air traffic controllers lost contact at 01:30. The fate of 227 passengers and 12 crew members on board Malaysia Airlines flight MH370 remains unknown, as the search for the missing aircraft continues.
Most of this you know, as our information age of technology and social media streams heavily with the story. Very few people on the planet could open their Facebook page right now and avoid at least one story or post related to the story.
This abundance of information has changed our appetite and expectations on the availability of information. In past posts I have referenced the new cultural and information demands that will drive a global demand for better, faster and more transparent information. Trends that have manifested in NSA leads, Wikileaks and more recently Brad Manning. This trend is only going to to accelerate, and disasters like flight MH370 only work to favour this trend. But are our traditional information controls now obsolete? Think for a second, if we had embraced crowd sourced information gathering and verification standards a decade ago when it was possible, the maturity and accuracy of information would have dramatically increased purely through social pressure and demand.
Malaysian Airlines uphill information battle
Right across the internet, people are reading stories of speculative information, rumours, and doctored images all fuelling the global demand for our information generation. All this only works to fuel the desperation of those closet to the tragedy, the friends and family of those onboard flight MH370. Frustration is growing for the family members of those on board the flight. The Washington Post has reported that some family members threw water bottles at Malaysia Airlines officials, after another briefing where little new information was offered. In a globally connected world unverified information can move at the speed of tweets. Creating global pressure by the public for officials to manage information that is purely speculative and may have zero relevance to officials. Officials that are from the 'old guard'. Granted they are the ones currently best equipped to manage and oversee the investigation, but their mastery of information trails well behind the general publics.
I just watched on the BBC rumours that flight MH370 was hit by a meteor or highjacked by elves.
Without a strong, verified alternative, these scenarios are just as likely. I'd assume the speculations and information around Malaysian Airlines flight MH370 will only accelerate in the coming days or weeks as the world's bloggers, conspiracy theorist and pranksters throw fuel on the fire with an abundance of unverified information that goes viral.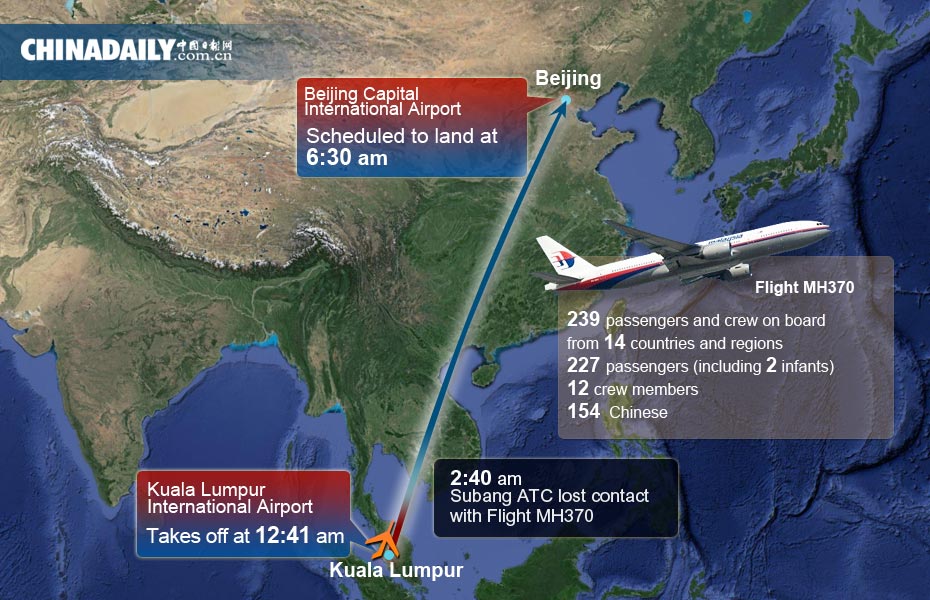 Tapping the crowd for MH370 information and resources
On a positive note, as the mystery of what happened to Malaysia flight MH370 deepens, a Colorado satellite imaging company is launching an effort to crowdsource the search, asking the public for help analyzing high-resolution images for any sign of the missing airliner. Colorado based DigitalGlobe trained cameras from its five orbiting satellites Saturday on the Gulf of Thailand region where Malaysia flight 370 was last heard from, said Luke Barrington, senior manager of Geospatial Big Data for DigitalGlobe.The images being gathered will be made available for free to the public on a website called Tomnod. Anyone can click on the link and begin searching the images, tagging anything that looks suspicious. Each pixel on a computer screen represents half a meter on the ocean's surface, Barrington told ABC News.
A great example of self-selected resources contributing to the search to accelerate the search. More than likely, DigitaLGlobe already has an image of clues that will lead us to the wreckage of flight MH370 and its just a matter of someone finding it.
As the story unfolds, we all watch every detail, rumour and speculation fuel the information hungry crowd.
UPDATE: A new rumour, North Korean hijacked the plane and flew the Malaysian Airlines aircraft to North Korea, or: What happened to MH370? This will carry on until something concrete emerges from the truth to replace the unverified information and rumours about flight MH370