Digital Medical Records to Power Proactive Health
I wrote last week about the emerging innovation in Health Care, a trend that Dr. Steven Tucker echoed last night at the NUS event on the Disruption of Medical Models. A key underlying pillar in the advancement of Health Tech is the data collection, giving rise to the analytics and pattern of algorithms that will drive proactive health care. Health, as opposed to 'medicine', has amazing potential to elongate and improve the quality of life.
We take a look at those that have made progress with digital medical records and the trends that will shape the industry's success. Sensors, wearables, big data and DIY Health features as strong early indicators, particularly those that empower the individual to take control of their 'informed' health, are the trends that are taking over the health industry. And the important point is it is not digital health, or health tech, the value lies in empowerment, individuals being informed real time on the state of their health.
One thing is for sure, in the future we will have immediate access to our own health record. Something like the biological passport that professional athletes keep or the record logging behaviour a cancer remission patient adopts. As the collection of test results, and data points on our biology becomes easier, DIY and cheaper, it will be commonplace for us to regularly check our readily-available health records.
This complete electronic health record (EHR), unlike other EHRs, has both web-based and touchscreen interface. This means customers no longer need to install any software and can just log-in online to see their data. Because of this, many subscribe because it is highly differentiated and easy to use. MediTouch offers charting, medication management, electronic prescribing, allergy checks, billing and other capabilities. It can also be customized depending on the provider's preferences.
Other technologies are also showing promise. My hot tip here is to look for the  health records that leverage the platform and network advantages of the Blockchain.
One of the key needs in a world where the individual owns their health care is the availability of affordable, discrete, simple to use sensors. It started in 2008, MC10 aims to "redefine the boundaries between humans and electronics...to empower all of us to better understand our health," a mission that is both bold and essential. Their hardware and software are designed as intelligent, flexible platform for biometric healthcare analytics.
Their most promising product is the BioStamp, a body-worn sensor so flexible and soft that it naturally conforms to the contours of the human body. The Bluetooth enabled 'stamp' has 36 hours of battery and is waterproof up to 1 meter underwater, more than enough to handle everyday life.
I'm expecting an abundance of sensor technologies, which MC10 today is leading the way. I'd also expect similar technologies to be embedded in everyday garments that are 'close to the skin', which should open the door for competition in the space from other industries with complementary capabilities.
PrognoCIS by Bizmatics Software
Bizmatics, Inc., a health care solutions company, based in Silicon Valley (San Jose, CA) formulated PrognoCIS. It's a  cloud-based software wherein people can subscribe on an integrated package of EMR, and practice management software or be adapted with what works best for them.
PrognoCIS "also offers the capability to create templates and self-served customized workflow." It also offers a mobile app where you can access data on the go.
For the past years, hospitals have been using an electronic system, and "three-quarters of doctors' offices use of some kind of electronic record." From 20.8 percent in 2004, EHR users increased to 82.8 in 2014. However, one of the huge hindrances is the fact that different hospitals and clinics use different EHR software programs. The limitation of this is that these systems frequently are not compatible to one another. Some believe that this is intentional, that software companies are using "information blocking" to protect branding or propriety software.
"The lack of "inter-operability," as it's called, among EHR systems doesn't just cause frustration, but can lead to medical errors and redundant testing, according to Ross Koppel, a professor at the University of Pennsylvania who studies health information technology."
Because of this, a lot of practitioners are expecting 2016 to pave way for the development of data standards that will make sharing patient information across various systems easier, cheaper, and more secure. In Singapore, My Doc, has been making serious inroads through its' medical messaging eco-system, that links physicians, labs and imaging. All key elements to an Electronic Medical Record's utility.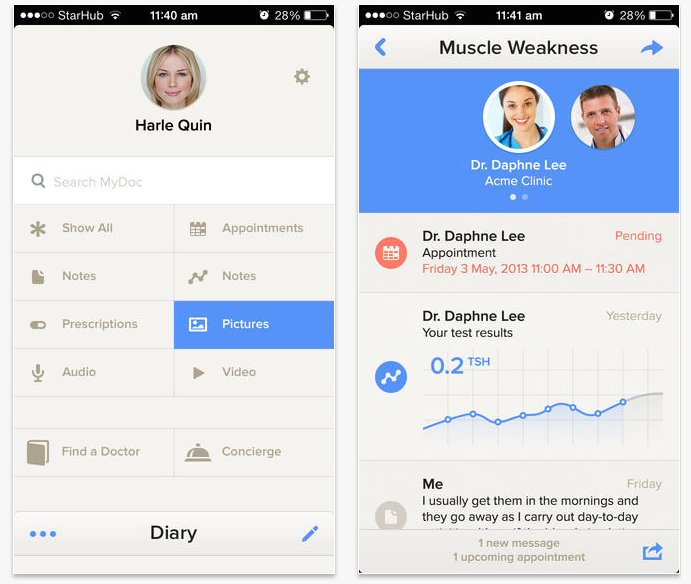 As the ecosystem develops the utility, value for the individual will grow. Today, it's mainly the early adopters that are 'geeking' out on the new technologies and gadgets. But as the scale grows and the end points connect, those early adopters will becomes the catalyst for larger adoption, and more importantly tangible measurable value from the benefits of digital medical records for proactive health.
References:
http://fivethirtyeight.com/features/its-2015-why-havent-our-medical-records-entered-the-digital-age/
http://searchhealthit.techtarget.com/essentialguide/EHR-regulations-interoperability-top-patient-record-concerns
http://people.howstuffworks.com/5-benefits-of-electronic-medical-records5.htm
http://www.capterra.com/electronic-medical-records-software/