Banks, You Should Be Scared
In recent weeks, we've seen two mega deals that everyone should be paying attention to. The scale of these deals puts the strategic ace card of most multi-national corporations at risk. I'm talking about the one billion dollar acquisition of a controlling stake in Lazada, and $4.5 billion dollar capital raise of Ant Financial of the Alibaba Group. China is a country that attracts attention, its F*@!ing huge. It's literally far enough from most executives that they can be forgiven for forgetting it, especially when many of them have struggled to penetrate, or even grow in the Chinese market. Now the Chinese market is coming to them.
Many incumbent industry dominators have rested on their laurels, choosing instead to stick to what they know, and what's 'safe'. They remain confident they still dominate market position, or superior capital reserves would eventually grant them a strategic position in the future. If you look closely at any company that has dominated a market for more than 20 years, very little of their growth over the past decade has been organic. Instead they leapt onto mergers and acquisitions, too often buying companies that look very similar to themselves. As a result, the top decision makers have been isolated from market pressures as they pay their 'strategy' hand.
These two deals should make those decision makers sit-up, if not got them very nervous. Let's take a closer look.
Alibaba & Lazada
Alibaba Group Holding Ltd made its largest overseas investment, a $1 billion deal for control of Lazada Group SA, taking the Chinese e-commerce giant to Southeast Asia. Alibaba and Alipay were already the largest of their kind. This moves them into the stratosphere. Alibaba Chairman Jack Ma has set an ambitious goal of growing to have half the company's revenue from overseas. The Lazada deal have added sales of clothing and electronics from six Southeast Asian markets.
"It(Alibaba) has huge cash sitting on its balance sheet so it can do this kind of investment. It's also seeking future growth drivers," said Marie Sun, an analyst at Morningstar Investment Service. "It needs to find some other place for future growth."
Founded in 2012 by Rocket, Lazada operates in Indonesia, Malaysia, the Philippines, Singapore, Thailand, Vietnam, and Indonesia, Southeast Asia's largest economy with 256 million people. Lazada has seen growth in markets were the absence of financial services has held back the ability to sell things online. But each time, they've found a way. Today, cash on delivery and escrow works as a work around while companies like Doku, MOL, PayPal and Skrill fill the payments gaps left wide open by the banks.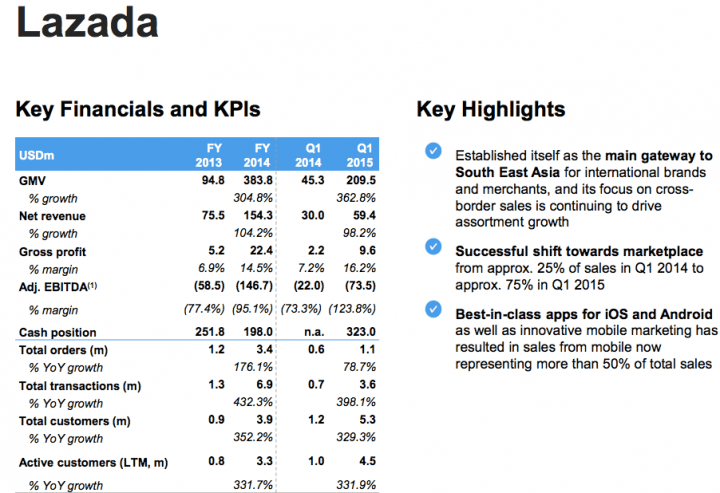 Get the hint yet? Alibiba created AliPay to fill the payment needs of the commerce giant. Today AliPay is the largest unsecured lender on the planet. Lazada has HelloPay to do much the same, but at a much lower scale. Once Alibaba merges AliPay and HelloPay, they will be the largest lender and payments company in the region, if not the planet. Lazada is also building its own logistics business to support the core. Eventually, they will own a complete value chain.
The executives of many banks today see strong growth potential in Asia's emerging affluence. That won't happen if Alibaba beats them there, and it is. Banks have sat on piles of capital, unwilling to do anything different with it.
Ant Financial
Ant Financial, the Alibaba affiliate that runs Alipay and other financial services in China, has announced a truly epic round of funding. Announcing its Series B, weighing in at a staggering $4.5 billion. The Wall Street Journal previously reported that the company is raising new funding at a valuation of up to $60 billion, now confirmed as the valuation for the recent deal. That's higher than PayPal's current $47 billion market cap.
Ant has piggy-backed on Alibaba's e-commerce empire, with $5.3 billion in revenue during the last quarter of business. Offering a range of financial services, most prominent is Alipay; China's most popular online payment service, used to process payments on Alibaba's sites. But Ant's portfolio also includes a micro-loans program and Alibaba's digital bank, MyBank. With approximately 450 million users, this service focuses on enabling people in remote areas who have limited access to traditional financial services. Does it sound familiar?
Conclusion
If you are a bank executive in Asia, I hope you've paid attention to these two deals as it shows a clear move by the Chinese giant to become a regional super power. They have the e-commerce experience, and the capital behind them to go head to head with banks. In fact, Alibaba Group could comfortably complete deals like DBS Bank's attempt to acquire a controlling stake in Danamon Bank in Indonesia.
Add that to Apple's move into the issuance of payment products with Apple Pay opening in the region, and within a span of a month the role of the bank will be significantly diluted.
What do you need to do? It's time to grow some balls, and start to invest capital in the company's future. It's time to seek the guidance of those that think different, act different and grant them a license to try new things. Otherwise, the organization will face pressure from ongoing compression on margins while the legacy of their strength holds them back from embracing the digital economy.
Timely, just a week before my new book, Innovation Wars opens for pre-order.